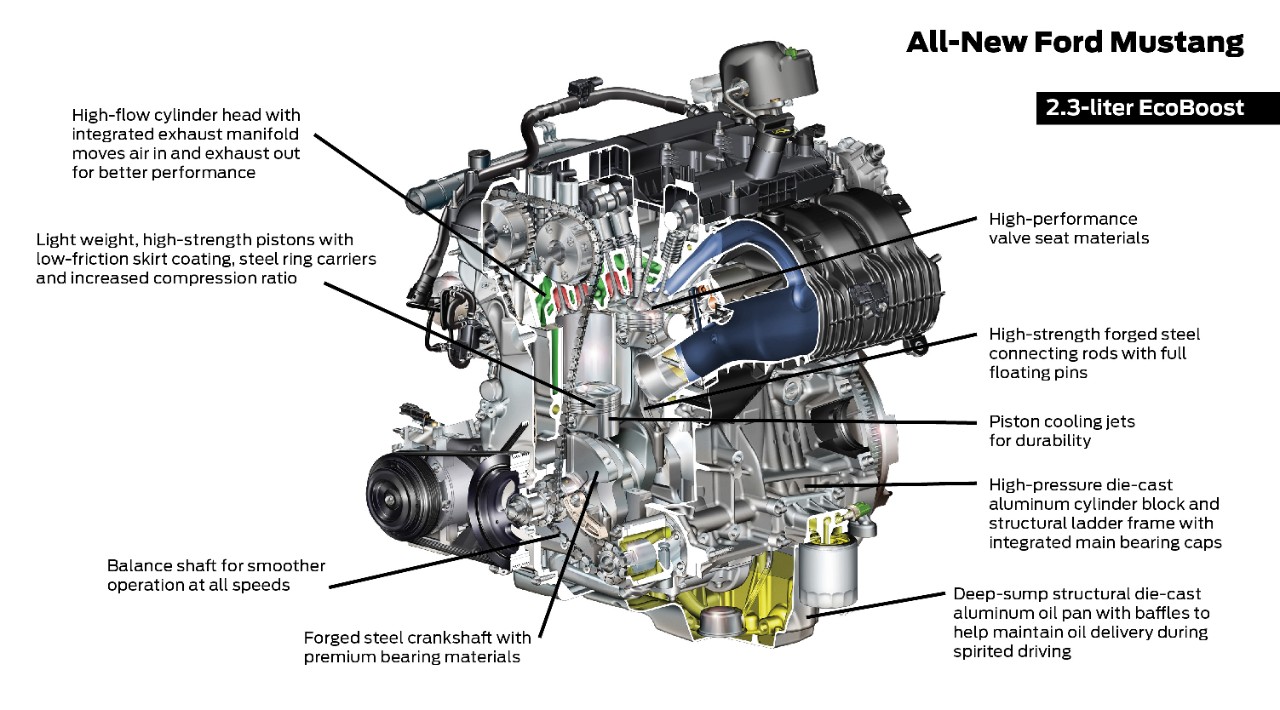 The current landscape of muscle machinery is not crowded with micro motors. Hellcats and SCAT Packs flank one side while fire breathing LSX combos are shoved into just about everything else. Even imports with an eye on the muscle crown are embracing platforms with 6 or more cylinders. So, is a Turbo-4 the right choice for a Mustang?
Turbo or Not?
Maybe the question isn't fairly stated. After all, It's easy to agree to having more power, better mileage, more tune ability and a lower purchase price. So maybe it is more appropriate to challenge the size of the engine using the turbo and the legacy of the car it's going into.
No

. What part of V8 Do You Not Understand?
The prototypical pony car was originally created by the stuffing a small block V8 into a lightweight, no-frills chassis. It is no surprise modern cars are getting larger and heavier. Creature comforts and safety gear have bloated the dimensions considerably over the years – and will likely continue to grow. Bigger cars demand more than 4 cylinders.
A car needs more than just a specific minimum horsepower to be considered a muscle car – and the Mustang is a muscle car. A muscle car also needs to convey speed and power to all of our senses, especially the ears. A rumble that can be felt in the chest, and deafening WOT roar (not whine) is muscle car 101. A car born without these primal traits is sedate by comparison – and one step closer to being a mild turbo minivan that runs 13's on the way to soccer practice.
Yes

. Mustang has Always Challenged the Status Quo, and Always Should.
Over the last 50 years, Ford has frequently used the Mustang to challenge the pony car segment, some ideas were good and others were WTFs. From a HERTZ GT-350 rent-a-racer to the King Cobra II, Ford has never been afraid of trying something different. The 2.3L EcoBoost should be used in the Mustang – if it is successful it will evolve, if not it will be cancelled.
It's not the first time a 4-cylinder turbo has been offered in the Mustang. It was available for the 1979 Mustang Pace Car, the 1979 Mustang GT, and the 1979 Mustang Cobra. The turbo 2.3 surfaced again in the 80s in the SVO. The Nation was reeling from an oil shortage – and the industry flocked to turbocharging. If a manufacturer doesn't adapt, a platform can die too soon.
How Does the 2015 2.3L EcoBoost Compare to Other Mustangs?
In the previous century, these numbers would be respectable for a nimble sedan. 310 Horsepower and 320 pound feet of torque powering 3,567 pounds. These are specifications the 1999 SVT Mustang Cobra couldn't match. But, this isn't 1999. Now days, compact SUV's are nearing the 300/300 mark. Does the Mustang deserve to be challenged by well-optioned minivans at your local intersection?
What Performance Mods are Available for 2015 EcoBoost 2.3L Mustang?
Intake for 2.3L EcoBoost Mustang
Cold air intakes have always been a popular first-mod. Why? Bang-for-the-buck. Most CAI kits are relatively easy to install and DIY friendly for practically any experience level. Kits on the market include:
Airaid – The new intakes feature a specially designed one-piece rotomolded intake box that draws cool outside air from the factory cold air duct location while having a unique shape that promotes airflow all the way around the filter. http://www.airaid.com/2015_mustang.aspx
Roush Performance – The all-new 2015-2016 Mustang 2.3L ROUSH EcoBoost Cold Air Kit replaces the restrictive stock air intake, unlocking latent power and fuel efficiency. There's no need for calibration or a custom tune as this CAI system was engineered and tested to ensure that no calibration changes are required. http://www.roushperformance.com/parts/2015-Mustang-I4-Cold-Air-Kit.html
JLT – JLT's 2015 Eco Boost Cold Air Intake is better than ever. Fully computer designed to optimize space and for best fit and finish. Large 5″ filter inlet with radiused end for tons of smooth air flow. Turbo end is 2.25″ to meet up with the factory turbo, but then it steps up to 4″ with another "barb" in the tube. So when you add a bigger turbo all you have to do is cut the end of the tube and add a larger coupler to fit up to a 4″ Turbo inlet!! http://www.lethalperformance.com/jlt-2015-mustang-2-3l-ecoboost-cold-air-intake.html
AEM – By replacing restrictive factory components with a charcoal gray powder coated mandrel bent aluminum air intake tube coupled to an open element AEM Dryflow synthetic air filter and protected by an application specific air filter heat shield, AEM is able to boost horsepower, torque and acceleration of 2015 Ford Mustang 2.3L EcoBoost models. http://www.aemintakes.com/news/news.aspx?id=5248
MAP – The team spent hours testing several different intake designs including 3.5 inch intake pipes and air box type intake kits. All of this testing lead to the perfect design to maximize your cars horsepower and torque. http://www.maperformance.com/ecoboost-ford-mustang-cold-air-intake-kit-by-maperformance-map-ebm-cai.html
Downpipe and Exhaust for 2.3L EcoBoost Mustang
Stage 3 Motorsports / Stainless Works offers 4 models to choose from: Coated or uncoated, with options for use with OEM Cat-back or aftermarket high-flow Cat-back. http://www.stage3motorsports.com/2015-Mustang-2-3L-EcoBoost-Downpipes.html
BBK Performance CNC series performance downpipes are available with a high flow catalytic converter or as an off road – race only straight pipe. http://www.bbkperformance.com/products/new-products/2015-up-mustang-23l-ecoboost-high-flow-performance-downpipes.html
ATP Turbo offers 3 stainless steel options for use with or without stock Cat-back systems. Big gains can be had with a stage one tune for nearly 48 flbs of torque! http://www.atpturbo.com/mm5/merchant.mvc?Screen=CTGY&Store_Code=tp&Category_Code=FEM
Borla provides a stainless steel downpipe for off-road use only without catalytic converters. The system bolts to stock or Borla Cat-back exhaust. http://www.borla.com/products/mustang_down_pipe_part__60559.html
So, Does a 2.3L EcoBoost Turbo Belong in a Mustang?
Look, we're big fans of the Lima turbo engines used in early Fox bodies. They provided a viable alternative for putting horsepower to the ground at a time when gas was scarce and availability was uncertain. But, the 80's are far behind us. And when a stock 5.0 GT will plant a verified 375hp/355tq to the pavement, it's tough to justify throwing tons of aftermarket goodies at the car in pursuit of underwhelming RWHP.
It would be easy to suggest this powerplant needs to find a home in some other vehicle – like the Fusion, or maybe a 'sport' version of the Escape, but not in a Mustang. And that would be wrong. The 2.3L EcoBoost belongs in a Mustang – a car that has always pushed the boundaries of a car segment it created by doing things different.
This EcoBoost will attract a wider (and younger) following of consumers, sales will help manage CAFÉ averages lower, and a new sub-industry of aftermarket companies will join in the success of the platform.
http://www.mustanglab.com/wp-content/uploads/2015/12/2015-mustang-engine-specs-23l-ecoboost-s550.jpg
710
1280
admin
http://www.mustanglab.com/wp-content/uploads/2017/02/ML-logo-hrz.png
admin
2015-12-04 18:19:01
2015-12-04 18:22:15
Does a Turbo 4 Cylinder Belong in a Mustang?