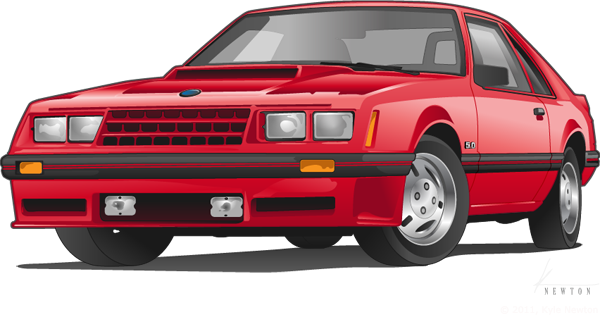 1982 was a turning point for the reinvention of American Muscle. GM had returned to the ring with restyled contenders – the Firebird and Camaro embraced V8 power, with the most potent Camaro packing a 165 hp punch. But, before we get to a blow-by-blow description of Ford's answer there were significant model option changes that need to be introduced.
The Ghia option was retired in favor of L, GL, and GLX badging. The Cobra nameplate would be retired for the next 11 years – and replaced with the GT badge. Ford hadn't used a GT nameplate on a Mustang since 1969 – but this model car would define the muscle car battles for the next decade.
THE RETURN OF THE 5.0
The standard engine for the 1982 Mustang was still the 2.3L 4-cylinder, with an optional 3.3L inline 6-cylinder. Ford still offered the 4.2L V8 for some incredible reason. This disappointing power plant was only available with the C5 3-speed automatic – and was now rated at a pathetic 111hp. The 5L HO Engine was reintroduced with 157 hp, 240 ft-lbs of torque, and a 400lb curb weight advantage over the F-Bodies from the GM corner.
The GT package offered a 4-speed manual transmission, 3.08:1 rear with Traction-Lok. Other options that were standard with the GT with the 5.0L were power steering assist, and traction bars. Cosmetics were unique also. The GT received a revised front grille, forward-facing hood scoop and a the spoiler/splitter originally featured on the 1979 Pace Car. You could have the GT in any color you liked – as long as you liked these four colors: Bright Red, Medium Red, Black and Silver Metallic.
Other popular options were carried over from 1981. Rear louvers, carriage roof, T-tops or Recaro seats were still available options. The TRX package was available on L, GL, and GLX models for $539-589 (This option was only $111 for the GT model)
Performance Statistics
1982
Horsepower
Torque
0-60
1/4 Mile
2.3L 4 Cyl
88 @ 4,800 rpm
118 @ 2,800 rpm
n/a
n/a
3.3L 6 Cyl
91 @ 3,800 rpm
160 @ 1,600 rpm
n/a
n/a
4.2L V-8
111 hp @3,400 rpm
194 @ 2,200 rpm
LOL
Really?
5.0L HO V-8
157 @ 4,200 rpm
240 @ 2,400 rpm
7.5*
15.88 @ 88mph
* Car and Driver (October, 1981)Car and Driver (8/82) 8.1 0-60, 16.2 @ 86mph
Road & Track 8.0 0-60, 16.3 @ 84mph
Production Numbers
Retail Prices
2dr Coupes L/GL:
2dr Coupe GLX:
3dr Hatchback GL:
3dr Hatchback GLX:
3dr Hatchback GT
Total:
45,316
5,828
45,901
9,926
23,447
130,418
Coupe L:
Coupe GL:
Hatchback GL:
Coupe GLX:
Hatchback GLX:
Hatchback GT:
$6,345.00
$6,844.00
$6,979.00
$6,980.00
$7,101.00
$8,397.00
Available Exterior Colors
Interior Trim Colors
Paint
Code
Color
Black
1C
Black
Bright Red
27
French Vanilla
Dark Blue Metallic
3D
Medium Red
Dark Cordovan Metallic
8N
Vacquero
Dark Curry Brown Metallic
69
Wedgewood Blue
Medium Bittersweet Metallic
8D
Opal / Black
Medium Blue Metallic
3H
Opal / Blue
Medium French Vanilla
6Y
Opal / Red
Medium Gray Metallic
1P
Opal / Vacquero
Medium Red
24
Medium Yellow
61
Pastel French Vanilla
6Z
Polar White
9D
Silver Metallic
1G
1980 Mustang VIN Decoder
Example: 1FA|B|P|12|D|6|C|F|1000011FA – Ford Motor Company
B – Restraint System
P – Passenger Car
12 – Body Code (See below)
D – Engine Code (See below)
6 – Check Code
C – Year (C=1982)
F – Plant (Dearborn)
100001 – Consecutive unit number
Engine Codes:
A – 2.3L 2V 4cyl 88hp
B – 3.3L 1V 6cyl 85hp
D – 4.2L 2V 8cyl 119hp
F – 5.0L 2V 8cyl 157hp HO
Body codes:
10 – 2dr L/GL Coupe
16 – 3dr GL/GT Hatchback
12 – 2dr GLX Coupe
13 – 3dr GLX Hatchback
Location: Stamped on the plate which is riveted to the driver's side of the dash, visible through windshield; the certification label is located on the rear face of the driver's door.
SSP MUSTANGS :
In 1982 the California Highway Patrol took delivery of 406 pursuit Mustangs. The GL coupes were equipped with the revised 5.0 HO rated at 157 hp., a 4-speed manual transmission, and a 3.08:1 final gear ration. That may not sound like a lot of power these days, but in 1982 there weren't many cars that could outrun the Mustang on the highway.
"Over the past eighteen years, Ford Mustang has earned the reputation as one of America's favorite sports cars.

This year, when California's Highway Patrol needed a fleet of 400 high-performance special pursuit vehicles to help keep their highways safe, 1983 Mustangs got the job. This pursuit Mustang, powered by a 5.0 liter, high-output engine accelerates from zero to 60 in 6.3 seconds.

Mustang's rack and pinion steering, MacPherson struts, coil springs and anti-sway bar provide the kind of responsive, precise and safe road handling needed in pursuit operation.

In short, Ford Mustang means total driving performance.

There could be a Mustang in your future too. Even if you don't chase Porsches for a living. There's a Ford in America's Future." — Ford Advertisment 1982
One of the most credible sources for learning about CHP options and SSP Pursuit Mustangs is collector Mike Riley. Not only does he own the "First" SSP Mustang, he has an interesting story about the first test mule Ford used to develop the platform. His write-up at SSPmustang.org details some of the changes Ford introduced throughout the SSP Mustang's service.
References
---
Wikipedia Ford Mustang
Ford Sales Brochure
The Official Mustang 5.0 1979 through 1993 Technical Reference & Performance Handbook, Kirshenbaum – Bentley Publishers
Fox-Body Mustang Recognition Guide 1979-1993, Shreiner & Sessler – T-5 Design