1980 was a year of change. The OPEC crunch of the 70s caused a disappearance of the 302 ci V8 and gave the Mustang a new 255 ci V8. This engine was a de-bored 302 and was the only V8 available in 80 and 81. The heads didn't help the cause, and the result was a pathetic 119hp – earning the distinction of the slowest Mustang V8 engine ever. If that wasn't enough to make Carroll Shelby toss cookies in his sleep – the lack of performance in this motor was further strangled by a 3-speed automatic transmission. Snore.
The Turbo 4 Cylinder was the only 'performance' option for 1980. At 132hp, the Turbo engine topped the underwhelming 4.2L V8 in horsepower – but apparently that was an easier task than being reliable. The carbureted turbo four-cylinder was plagued with drivability and performance issues: Turbo lag, turbo failure, and poor turbo lubrication that would some times cause the turbo to ignite.
Mustang was available as a Coupe in either standard or Ghia trim – and as a Hatchback in Sport, Ghia or Cobra trim.
Darkest Before the Dawn
So, to recap – in 1980 the economy was crap, and America's favorite pony car was sporting an anemic V8. Dark days were looming – until September. That's when Ford announced the formation of a Special Vehicle Operations (SVO) division. The purpose of SVO was to "develop a series of limited-production performance cars and develop their image through motorsport." This approach was not unique for the Mustang – special editions cars from the 60s and 70s like the Shelby, Mach and Boss had defined an image of performance for Ford. The birth of SVO would have a similar influence on the Mustang.
Performance Statistics
1980
Horsepower
Torque
0-60
1/4 Mile
2.3L 2V
88 @ 4,800 rpm
118 @ 2,800 rpm
n/a
n/a
2.3L 2V Turbo
132 @ 6,000 rpm
143 @ 2,800 rpm
n/a
17.36 @ 79.3 mph**
3.3L 1V 6cyl
91 @ 3,800 rpm
160 @ 1,600 rpm
n/a
n/a
4.2L 2V V-8
119 hp @3,800 rpm
193 @ 2,200 rpm
8.3*
17.0 @ 85 mph
* Car and Driver (1/80), 3-speed Automatic transmission.
Motor Trend (1/80) tested at 11.3 / 16.0 @ 81.0 mph
** From 1979 testing
Production Numbers
Retail Prices
2dr Sedan:
3dr Hatchback:
2dr Sedan Ghia:
3dr Hatchback Ghia:
Total:
128,893
98,497
23,647
20,285
271,322
Standard Coupe:
Ghia Coupe:
Standard Hatchback:
Ghia Hatchback:* (?) Same price recorded for 1979.
$5,338.00
$5,823.00
$5,616.00
$5,216.00*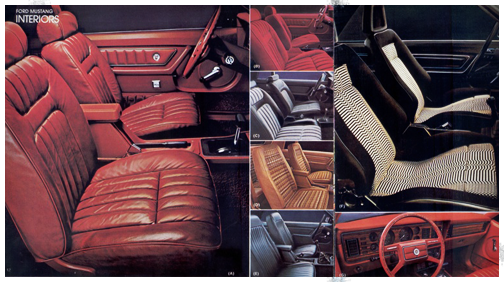 Available Exterior Colors
Interior Trim Colors
Paint
Code
Color
Black
1C
Black
Bright Bittersweet
2G
Caramel
Bright Blue
3J
Medium Red
Bright Camel
5T
Vacquero
Bright Red
27
Wedgewood Blue
Bright Yellow
6N
White / Black
Chamois Glow Metallic
8W
White / Blue
Dark Chamois Metallic
8A
White / Red
Dark Cordovan Metallic
8N
White / Caramel
Light Medium Blue
3F
White / Vacquero
Medium Bittersweet Metallic
8D
Medium Blue Metallic
3H
Medium Gray Metallic
1P
Polar White
9D
SIlver Metallic
1G
1980 Mustang VIN Decoder
Example: 0|R|03|F|0000010 – Model year last digit
R – Assembly plant: F-Dearborn, R-San Jose
03 – Body Code (See below)
F – Engine code (See below)
000001 – Consecutive unit number
Engine Codes:
A – 2.3L 2V 4cyl 88hp
W – 2.3L 2V 4cyl 132hp Turbo
B – 3.3L 1V 6cyl 85hp
D – 4.2L 2V 8cyl 119hp
Body codes:
02 – 2dr Sedan
03 – 3dr Hatchback
04 – 2dr Ghia Sedan
05 – 3dr Ghia Hatchback
Location: Stamped on the plate which is riveted to the driver's side of the dash, visible through windshield; the certification label is located on the rear face of the driver's door.
UNIQUE OPTIONS FROM 1980 :
A new option for Mustang was the Carriage roof. Ford decided to offer this faux convertible-look three years before offering the Mustang in a convertible again. Select companies had been creating customized convertibles for the 1979 coupes. (Certainly the Carriage roof would be popular with the retired community of Boca-Del-Vista, Florida if it were offered on Mustangs today.) The Carriage roof coupes were prepared with blacked out window moldings.
1980 Mustang Cobra :
In 1980 the Cobra returned with a few noticable changes. Significantly, the Cobra was now available with a 135hp 4 cylinder turbo, or a 119hp V8, sigh. The ground effects package from the 1979 Pace Car was now standard on the 1980 Cobra, as were Marchal fog lights, and a rear-facing, non-functional hood scoop.
Black quarter window louvres replaced the body colored versions of 1979, and a new graphics package appeared on the Cobra. The 'Cobra' decal was now on the quarter window, and a new striping package ran the length of the car – tying into a unique Cobra rear spoiler. The absolutely awesome graphics package was still available, this year as an $88 option. The Cobra package was $1,482. High-backed Recaro seats added another optional $531.00.
M81 McLaren Mustang:
1980 saw the birth of one of the least understood, and possibly, most important Fox bodied Mustangs. A reorganization in Ford's leadership sent Ford back to the race track with factory support. The McLaren M81 Mustang prototype was designed in the spring of 1980. This off-the-shelf, hand built specialty Mustang blazed a successful trail. Many initiatives followed this prototype to bring Ford back to the race track, and innovative Mustangs to the street. For a complete summary of the M81 McLaren – check out our blog article: History of the M81 McLaren Mustang.
References
---
Wikipedia Ford Mustang
www.FourEyedPride.com
The Official Mustang 5.0 1979 through 1993 Technical Reference & Performance Handbook, Kirshenbaum – Bentley Publishers
Fox-Body Mustang Recognition Guide 1979-1993, Shreiner & Sessler – T-5 Design
Click here to add your own text
Click here to add your own text