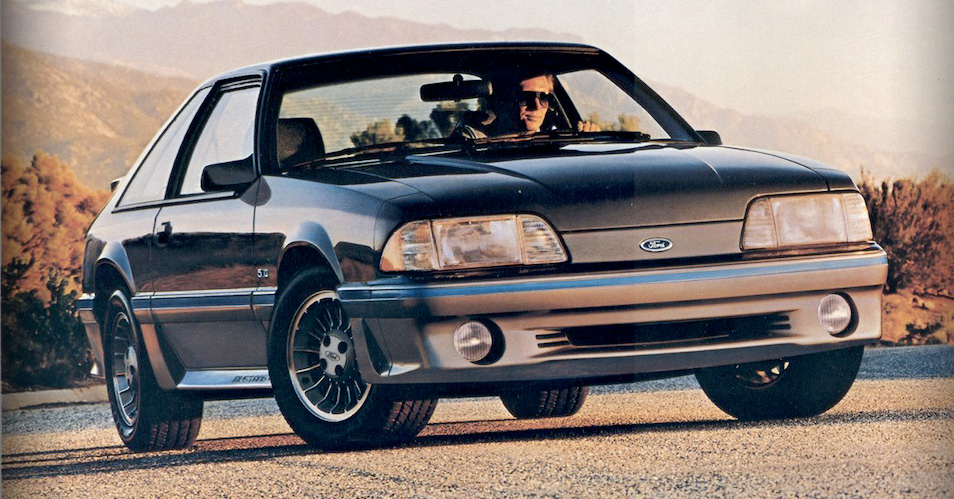 The redesigned 1987 Mustang had a style that defined the modern muscle-car. The changes were as much about aero efficiency as they were about looks. The beloved four-eyed headlamps were replaced with single-piece Euro lenses. The bumper cover was completely redesigned. The GT nose incorporated a full valence, and the extended hood fitted even with the bumper gap to greatly improve coefficient of drag.
The 1987 5.0 V8 retained the Speed Density sequential multiple-port fuel injection (SEFI) but horsepower and torque numbers were up. Ford used a different head, the E7TE-6049-PA / E5TE-6049-PA which provided a much better combustion area. Horsepower was now rated 225 @ 4,400 RPM and 300 ft-lbs of torque were available at 3,000 RPM.
The Mustang was available as a coupe, hatchback and convertible in LX trim. GT trim was available only for hatchback and convertible. Ford sold over 64,000 5.0L Mustangs in 1987 – mostly GT hatchbacks. Units produced: LX 5.0 coupe/4,888, hatchback/9,642, convertible/2,073, GT hatchback/37,056, convertible/10,451.
Performance Statistics
1987
Horsepower
Torque
0-60
1/4 Mile
2.3L 4 Cyl
90 @ 3,800 rpm
122 @ 2,600 rpm
n/a
n/a
5.0L EFI V-8
225 hp @ 4,400 rpm
300 @ 3,000 rpm
6.3**
14.7 @ 94 mph
**Car and Driver (6/87) 3.08 optioned Traction-Lok. Top speed 137mph.
Production Numbers
Retail Prices
2dr Coupes:
3dr Hatchback:
2dr Convertible:
Total:
43,257
94,441
32,074
159,145
Coupe LX:
Hatchback LX:
Convertible LX:
Hatchback GT:
Convertible GT:
$8,271.00
$8,690.00
$13,052.00
$12,106.00
$14,945.00
In 1987 the Mustang received a redesigned interior. Paddle switches flanked both sides of the instrument cluster. Improvements included power-adjustable lumbar support with adjustable thigh and side bolsters, reclining seat backs and 4-way adjustable headrests.
Some notable options were available in 1987. It was the last year a T-top was offered ($1,618 GT / $1,798 LX,) a flip-up sunroof ($355) and louvers were available from the factory. The premium sound system was a $168 option, but if you wanted to go full 'Risky Business' the graphic equalizer cost another $218.
Available Exterior Colors
Interior Trim Colors
Paint
Code
Color
Black
1C
Blue
Bright Regatta Blue
7H
Sand Beige
Dark Sable
8Y
Scarlet
Jonquil
6H
Smoke
Medium Cabernet
2H
Oxford White / Blue
Medium Scarlet
2D
Oxford White / Scarlet
Medium Shadow Blue
3R
Oxford White / Smoke
Oxford White
9L
Sand Beige
8L
Shadow Blue
7B
Smoke
1K
Smoke Poly
1D
1987 Mustang VIN Decoder
Example: 1FA|B|P|40|M|6|H|F|100001 – Ford Motor Company
B – Restraint System
P – Passenger Car
40 – Body Code (See below)
M – Engine Code (See below)
6 – Check Code
H – Year (H=1987)
F – Plant (Dearborn)
100001 – Consecutive unit number
Engine Codes:
A – 2.3L EFI 4cyl 88hp
M – 5.0L EFI 8cyl 225hp HO
Body codes:
40 – 2dr LX
41 – 3dr LX
42 – 3dr GT
44 – 2dr Convertible
45 – 2dr GT Convertible
Location: Stamped on the plate which is riveted to the driver's side of the dash, visible through windshield; the certification label is located on the rear face of the driver's door.